Jared Wilson
Jared Wilson is Assistant Professor of Pastoral Ministry and Author in Residence at Midwestern Baptist Theological Seminary in Kansas City, Missouri, and the Director of the Pastoral Training Center at Liberty Baptist Church in Liberty, Missouri. He is the author of over twenty books, including Gospel-Driven Ministry and The Imperfect Disciple. Jared and his wife Becky have two college-aged daughters and live in the Kansas City Northland.
Dr. Anthony Bradley
Dr. Anthony Bradley is professor of religious studies and director of the Center for the Study of Human Flourishing at The King's College, Theologian-In-Residence at Redeemer Presbyterian Church—Lincoln Square, and serves as a research fellow at The Acton Institute. Dr. Bradley is called upon by members of the broadcast media for comment on current issues and has appeared on C-SPAN, NPR, CNN/Headline News, and Fox News, among others.
His books include: Liberating Black Theology (2010), Black and Tired (2011), The Political Economy of Liberation (2012), Keep Your Head Up (2012), Aliens In The Promised Land (2013), John Rawls and Christian Social Engagement (2014), Black Scholars In White Space (2015), Something Seems Strange (2016), Ending Overcriminalization and Mass Incarceration (2018), Faith In Society (2019), and Why Black Lives Matter (2020).
Dr. Bradley holds a Bachelor of Science in biological sciences from Clemson University, a Master of Divinity from Covenant Theological Seminary, a Master of Arts in Ethics and Society from Fordham University, and his PhD is from Westminster Theological Seminary.
Dr. Michelle Reyes
Michelle Ami Reyes, PhD, is the Vice President of the Asian American Christian Collaborative, and the Scholar in Residence at Hope Community Church. She is the author of Becoming All Things: How Small Changes Lead to Lasting Connections Across Cultures, and co-author of the forthcoming book The Race-Wise Family: Ten Postures to Becoming Households of Healing and Hope. Dr. Reyes lives in Austin with her husband and two amazing kids.
Cameron Cole
Cameron Cole has been the Director of Youth Ministries at the Cathedral Church of the Advent since December of 2005, and in January of 2016 his duties expanded to include Children, Youth, and Families. He is the founding chairman of Rooted Ministry, an organization that promotes gospel-centered youth ministry. He is the co-editor of "Gospel-Centered Youth Ministry: A Practice Guide" (Crossway, 2016). Cameron is the author of Therefore, I Have Hope: 12 Truths that Comfort, Sustain, and Redeem in Tragedy (Crossway, 2018), which won World Magazine's 2018 Book of the Year (Accessible Theology) and was runner up for The Gospel Coalition's Book of the Year (First-Time Author). Cameron has a B.A. in Latin and English and an M.A. in Education, all from Wake Forest; he nearly done with his Masters in Divinity from Reformed Theological Seminary.
Clark Fobes
Clark is a pastor in his hometown of San Francisco, and has served in Youth Ministry in the Asian-American context for over a decade. He received his M.Div. from Talbot Theological School in Southern California, and is a Doctor of Missiology (D.Miss) candidate at Southern Seminary (SBTS). He is also an emeritus member of Rooted's Steering Committee. He and his wife, Janet, have two daughters, Kara and Nora.


Kendal Conner
After spending 10 years working in youth ministry, Kendal currently serves as a Groups Minister at Redeemer Fellowship in Kansas City, MO. Originally from Memphis, Tenn. Kendal received her BA from Union University. After graduation, she served 2 years overseas working with youth in Central Asia. After returning to America, she spent several years working for a parachurch youth ministry before moving to Oklahoma to serve as a Girls Minister in a local church. Kendal loves to travel, and dreams of one day being able to say she has drank coffee in every country.
Dr. Brian Albert
Dr. Brian Albert (PhD from Southern Baptist Theological Seminary) has pastored at Calvary Baptist Church in Lenexa since 2004. He also serves at Midwestern Baptist Theological Seminary as Adjunct Professor of Church History and Research Assistant of the Spurgeon Library. Dr. Albert is the author of two books The Spirit of Holiness: Reflections on Spiritual Formation and Living the Faith: Upward, Inward, Outward, and Onward. Dr. Albert received the Calvary Bible College award for excellence in preaching and the Lifeway/Midwestern Baptist Theological Seminary award for excellence in preaching. He enjoys sports, history, music, reading, writing, gardening, fishing, and hunting in his spare time. Dr. Albert and his wife, Anita, have two children, Emma and Noah, along with two Labrador retrievers (Luna and Dublin) and two Siamese cats (Maximus and Maggie).
Vince Greenwald
Vince Greenwald is the student ministry director at Immanuel Church Nashville and a student at Covenant Theological Seminary. He and his wife Caroline live in Nashville, Tennessee with their children Bear (3) and Lila (2). Vince seeks to joyfully follow Jesus and serve the Church with Caroline and to bring students and their families along with them.
Liz Edrington
Liz Edrington serves as the Fellowship Groups and Young Adults Director at North Shore Fellowship in Chattanooga, TN. She received her M.A. in Counseling from Reformed Theological Seminary in Orlando, FL, and she has worked with students in one form or another since 2002. She's served on the Rooted Steering Committee since 2010 and authored a chapter in Gospel-Centered Youth Ministry: A Practical Guide. She's delighted to live at the base of a mountain with her golden retriever, Bella, and she finds joy in tasting new things.
Chris Ellman
Chris and his wife, Carrie, have four children. He's proud to have called Kansas City his home since 2001. He and his family attend Our Lady of the Presentation and are also members of the Heart of the Redeemer Covenant Community.
After earning a Bachelor's Degree in Psychology from Truman State University, he attended the University of Kansas School of Social Welfare and was awarded a Master's Degree in Social Work in 2003. Since then, he has worked for a hospice organization, a large hospital, and even spent a number of years as a Financial Advisor.
Chris considers it an honor to be invited into his clients' stories. Ever since he was young, he's had a desire to engage others on a deep emotional level. He marvels at the strength and resilience of his clients, despite their seemingly insurmountable obstacles and suffering. Also, he has borne witness to what happens when his clients commit to doing the difficult and messy work of healing.
In his free time he enjoys spending time with his wife and children and reading anything by G.K. Chesterton, C.S. Lewis, and J.R.R. Tolkien. He's also an avid reptile enthusiast, a Star Wars fan, enjoys going to concerts, and playing the drums.
Chelsea Kingston Erickson
Chelsea serves as Pastor of Youth and Families at First Congregational Church of Hamilton, MA and as an editor at Rooted. She and her husband, Steve, are new parents to a baby boy, Wells. Chelsea holds an M.Div from Gordon-Conwell Theological Seminary. She loves teaching the arc of redemptive history and is currently pursuing a Master of Theology (Th.M.) in Old Testament Studies. She also enjoys restaurant hopping around Greater Boston and spending time with her retired thoroughbred, Aiden Magee.
Tucker Fleming
Tucker Fleming was raised in the Atlanta area and attended both Mississippi State University and Beeson Divinity School. After spending some time working in the non-profit sector, he spent six years in youth ministry before beginning work as Rooted's Director of Ministry Development. He lives in north Alabama with his wife, Kaleigh, and his son, Owen.
Anna Meade Harris
Anna Meade Harris is a single mom of three almost-grown sons. She is the Rooted Blog Editor-in-Chief, a member of Brookwood Baptist Church, and the author of Fresh Faith: Topical Devotions and Scripture-Based Prayers for College Students. In her free time, Anna enjoys gardening, great books, running, hiking, hammocks, and ice cream. She cheers for the Crimson Tide and wants to live by a mountain stream in Idaho someday.
Josh Hussung
Josh Hussung is the Pastor of Youth and Families at Grace Community Church in Nashville, Tennessee, and has been in youth ministry for over 16 years. He holds an Mdiv in Pastor Studies from the Southern Baptist Theological Seminary. In addition to writing for Rooted, Josh has also been featured on ERLC.com. Follow him on Twitter @joshhussung.
Isaiah Marshall
Isaiah is a husband, father, and a creative. As a spoken word poet, published author, and speaker, Isaiah loves to communicate the gospel in creative ways. He and his beautiful wife, Rahab, have three amazing children. Isaiah serves as the Director of Student Ministry at Strong Tower Bible church in Nashville, TN and as a Chaplain in the Air Force Reserve.
Greg Meyer
Greg Meyer (MDiv, Reformed Theological Seminary; BSE, Mercer University) serves as the Assistant Pastor at Trinity Presbyterian Church (PCA) in Tuscaloosa, AL. Prior to this, he served in youth ministry for over a decade at churces in Missouri, Mississippi, and Georgia. He is the author of A Student's Guide to Justification and has served as a conference speaker with Reformed Youth Ministries. Greg has written for the Center for Parent/Youth Understanding (CPYU), Modern Reformation, and Orthodoxy Orthopraxy, Covenant Theological Seminary's blog. He also blogs on his own site Moment-By-Moment. Greg and his wife, Mary Jane, have four children.
Luke Paiva
Luke Paiva has a B.A. in English and an M.Ed. from The University of Tennessee Knoxville, and is currently working on his MDiv through Reformed Theological Seminary. He has been married for sixteen years to his wife Johannah, and has four children – Jack, Benjamin, Lucy, and Grace. He began his career teaching high school English and has returned to the classroom after a decade in law enforcement. He currently teaches Biblical Studies at a Christian high school in Nashville, TN.
Barnabas Piper
I am a husband and the father of two daughters which means I don't really have time for hobbies, but what time I do have is spent reading, writing, or watching sports. I worked in Christian publishing and leadership development for nearly fifteen years before being called into pastoral ministry. I now serve as an assistant pastor at Immanuel Church of Nashville.
I write because I enjoy it, the act itself and the developing and working out of ideas. It's a sort of compulsion and passion. I use this site to host pieces I have written, podcasts I have hosted, or share things have run across which I find informative, thought provoking, or entertaining. I have contributed to a variety of websites and publications and write regularly for He Reads Truth and am the author of four books: The Pastor's Kid: Finding Your Own Faith and Identity, Help My Unbelief: Why Doubt is Not the Enemy of Faith, The Curious Christian: How Discovering Wonder Enriches Every Part of Life, Hoping for Happiness: Turning Life's Most Elusive Feeling into Lasting Reality.
I co-host The Happy Rant podcast with Ted Kluck and Ronnie Martin in which we cheerfully (if sardonically) rant about all the things that don't matter all that much and some things that do.
Rev. Chris Polski
Rev. Chris Polski serves as the Lead Pastor of Trinity Church Kirkwood (PCA) in southwest St. Louis. He is a graduate of Covenant Theological Seminary where he also serves as a Visiting Instructor in Practical Theology. He is married to Katie and has three wonderful kids. In addition to enjoying his family he is a huge U2 fan, lover all things sports related and a devoted reader of C.S. Lewis.
Katie Polski
Katie is wife to Chris, a PCA pastor at Trinity church in Kirkwood, MO, and together they have three children, Ella, J-Rod, and Lily. Katie works as the music director at Trinity and serves on the Women's Ministry Committee. She also spends much of her time writing, playing piano, leading women's Bible studies, and speaking to women's groups about the joy she has found in Christ. Katie graduated from Covenant College with a BA in English Education and has served on the board of Covenant. She is currently pursuing her Master of Arts in Theology from Covenant Seminary in St. Louis. For more information, as well as various blog entries, you can visit her website at www.katiepolski.com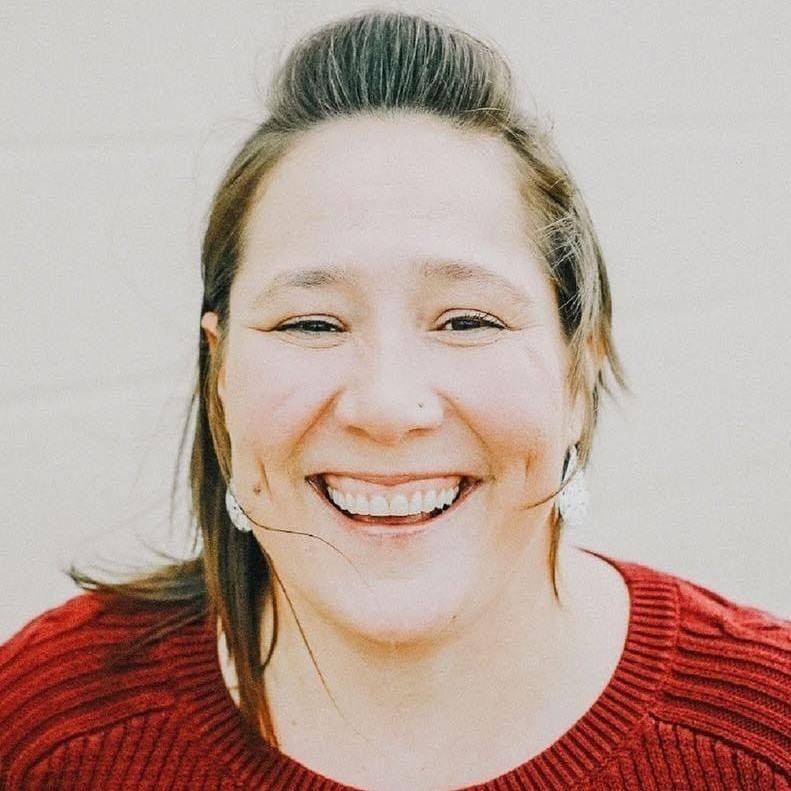 Amanda Smith
Amanda Smith serves as a minister on staff at Redeemer Fellowship in Kansas City MO. She leads and helps oversee the "Care" side of Redeemer's Care and Counseling Ministries and the Prayer Ministry Team. Along with soul care/prayer ministry, church planting and evangelism, Amanda has extensive training and experience in walking with and discipling those coming out of a homosexual identification or are dealing with gender confusion. She longs to see renewal in this community and for the Church to have a whimsical, tender, and bold witness.
Seth Stewart
Seth Stewart is a husband and a dad, and after a decade in student ministry is now working as the Editor-in-Chief at Spoken Gospel. Spoken Gospel creates online resources that point to Jesus from every passage of Scripture. Seth spends his day writing, speaking, and being his family's chef.
Kevin Yi
Kevin Yi is the college and young adults pastor at Church Everyday in Northridge, CA and has been serving youth students for over 16 years. He was a bi-vocational pastor for most of this time and has been in the animation industry for over 13 years. He is the founder of truthmattersministries.com. He and his wife Tracy are celebrating thirteen years of marriage together and have three children: Caden, Isabella, and Ian. He is currently pursuing a Master of Arts in Theology at Talbot Theological Seminary.